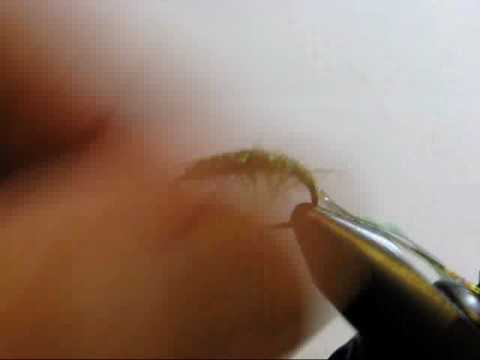 Trout Predator Online demonstrates how to tie an olive brown Czech nymph on a size 10 Knapek G hook. This nymph represents the Rycophilia larva, a common green caddis. In spite of its heavy weight, this fly style possesses a slim profile due to its construction methods.
Czech Nymph Materials List
- Size 10 Knapek G hook
- 7X monofilament outer rib
- Small holographic gold tinsel inner rib
- Light olive 1/8in scud back
- Olive brown dubbing blend
- Medium flat lead
- Olive 70 denier thread
- Black permanent marker
The Czech Nymphing Craze
There's been an explosion of American interest in this highly effective european short line nymphing technique. If you would like to learn more, Czech Nymph and Other Related Fly Fishing Methods by Karel Krivanec, the first book translated into English on the topic, covers all facets you need to know including how to tie over 150 Czech nymphs, tackle selection, leader construction, fishing techniques and strike detection methods.
More European Style Nymph Patterns
If you enjoyed this pattern you can find more european style nymph patterns, including a Polish Woven Nymph, in our fly tying video gallery. I've been having great success using euro nymphing techniques and flies this season - give them a try!
Enjoy!