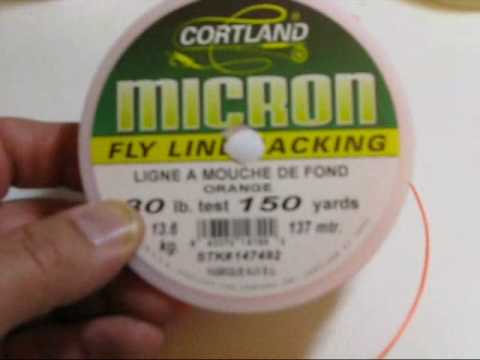 Add a little color to your European nymphing leader with a backing sighter and see strikes like never before. Learn how in this short video from Trout Predator Online.
What's Backing Sighter?
Simple to make, a colorful backing sighter makes a great alternative to a coiled monofilament sighter when French nymphing or Spanish nymphing. Inserted midway down your long-line nymphing leader and fished at or above the water interface a backing sighter is just plain fun to fish.
How to Make Backing Sighter
Not only is a backing sighter fun to fish, it is also fun and simple to make. Tie two equal lengths of differently colored Dacron backing material together with a blood knot and finish with a loop on each end – that's it!
I don't bother with the needle threaded loops as shown in the video but instead use a Perfection loop. It's faster and the sighter is not going in and out of the guides very often while fishing so the knots hanging on the guide are not a big deal.
I prefer an orange and chartreuse barred backing sighter. Barring is easily done by wrapping the sighter around a pencil and coloring a quarter of the sighter with a permanent black marker.
Backing Sighter Versus Coiled Monofilament Sighter
We gave high praise to the coiled monofilament sighter in our last post, so why use a backing sighter?
A coiled mono sighter is more sensitive and effective in strike detection than a backing sighter but it is also harder to see. For this reason, I tend to favor a backing sighter during low light conditions as we often have to deal with during late fall and winter.
What's Next?
Tie up a backing sighter or two in different colors and give European nymphing a try. Not that you need one to get started, if you are in the market for a new or used Euro nymphing rod, stay tuned for our next post where we review some of the nymphing fly rods on the market that are well suited to the European style of fishing nymphs.
Enjoy!
More FFR Articles on European Nymphing Techniques
Euro Nymphing: Czech Nymphing, French Nymphing, Spanish Nymphing
How-to Build a Czech Nymphing Leader
How-to Rig a 2-Fly Czech Nymphing Setup
How-to Build a French / Spanish Nymphing Leader
How-to Tie a Davy Knot
How-to Make a Backing Sighter for a European Nymphing Rig
How-to Make a European Nymphing Coiled Mono Sighter
European Nymphing Fly Rod Craze or Bandwagon?